History
The origin and history of coffee dates back to the 10th century, and possibly earlier with a number of reports and legends surrounding its first use. The native (undomesticated) origin of coffee is thought to have been Ethiopia. The earliest substantiated evidence of either coffee drinking or knowledge of the coffee tree is from the 15th century, in the Sufi monasteries of Yemen. By the 16th century, it had reached the rest of the Middle East, South India (Coorg), Persia, Turkey, Horn of Africa, and northern Africa. Coffee then spread to the Balkans, Italy and to the rest of Europe, to South East Asia and then to America.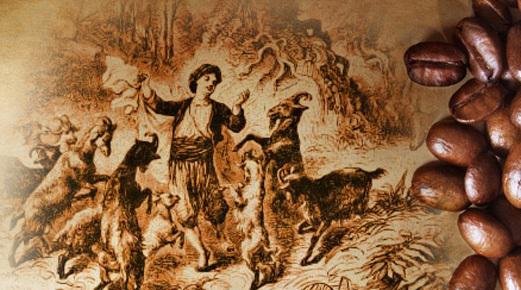 There are several legendary accounts of the origin of the drink itself. One account involves the Yemenite Sufi mystic Ghothul Akbar Nooruddin Abu al-Hasan al-Shadhili, another accounts attribute the discovery of coffee to Sheik Abou'l Hasan Schadheli's disciple, Omar. We will retain because of the its romanced side, involves a 9th-century Ethiopian goat-herder, Kaldi, who, noticing the energizing effects when his flock nibbled on the bright red berries of a certain bush, chewed on the fruit himself. His exhilaration prompted him to bring the berries to a monk in a nearby monastery. But the monk disapproved of their use and threw them into the fire, from which an enticing aroma billowed, causing other monks to come and investigate. The roasted beans were quickly raked from the embers, ground up, and dissolved in hot water, yielding the world's first cup of coffee. Since this story is not known to have appeared in writing before 1671, 800 years after it was supposed to have taken place, it is highly likely to be apocryphal.
The word "coffee" entered the English language in 1582 via the Dutch koffie, borrowed from the Ottoman Turkish kahve, in turn borrowed from the Arabic qahwah (قهوة).The Arabic word qahwah originally referred to a type of wine, whose etymology is given by Arab lexicographers as deriving from the verb qahā (قها, "to lack hunger") in reference to the drink's reputation as an appetite suppressant.The word qahwah is sometimes alternatively traced to the Arabic quwwa ("power, energy"), or to Kaffa, a medieval kingdom in Ethiopia whence the plant was exported to Arabia. These etymologies for qahwah have all been disputed, however. The name qahwah is not used for the berry or plant (the products of the region), which are known in Arabic as bunn and in Oromo as būn. Semitic had a root qhh "dark color", which became a natural designation for the beverage. According to this analysis, the feminine form qahwah (also meaning "dark in color, dull(ing), dry, sour") was likely chosen to parallel the feminine khamr (خمر, "wine"), and originally meant "the dark one".
The original domesticated coffee plant is said to have been from Harar, and the native population is thought to be derived from Ethiopia with distinct nearby populations in Sudan and Kenya.[